Eat Your Way On Broadway – A Feast For World Theater Day
Plan your own World Theater Day celebration with a series of Broadway-inspired recipes.
March 27 is World Theater Day, so why not celebrate it like so many other holidays, with a party. In honor of Broadway and theater everywhere, savor your way around the world with Broadway-inspired recipes from Crack an egg! : The Broadway Cookbook by Tara Theoharis and hamiltonThe free holiday cookbook with recipes from the cast and crew of the Broadway musical. Read on for a complete meal plan, including a Gypsy-inspired starter, a main dish from the Miranda family, a revolutionary cake and a naughty cocktail.
Start your feast with a wink on Broadway Gypsy while making Egg Rolls for Mr. Goldstone.
These are fine if you're trying to butter up those in attendance.
Ingredients

2 tablespoons peanut oil
4 cups shredded cabbage
1 cup grated carrots
3/4 cup chopped green onions
1/2 cup bean sprouts
1 tablespoon chopped ginger
2 garlic cloves, minced
1 teaspoon of sugar
Salt and pepper to taste
1/2 cup chicken broth
2 cups julienned or shredded Chinese barbecue or roast pork
1 tablespoon of soy sauce
1 tablespoon sesame oil
1 egg
12 spring roll wrappers
1/2 cup canola oil for frying
To treat
Heat the peanut oil in a wok or large skillet over medium-high heat.
To make the filling mixture, add the cabbage, carrots, green onions, bean sprouts, ginger and garlic. Cook for 2 to 3 minutes or until everything begins to soften. Add the sugar and season with salt and pepper. Add the chicken broth, pork, soy sauce and sesame oil and mix everything together. Cook until broth is warmed through, 1 to 2 minutes.
Pour the filling mixture into a colander to drain and let cool.
Prepare the egg wash: Beat an egg in a small bowl and set aside.
On a clean surface, lay out a sheet of egg roll with one corner pointing towards you. Place about ¼ cup filling in the middle of the package. Then carefully fold the corner closest to you over the filling and roll up. When the egg roll is half rolled up, fold in the side corners and continue rolling. Brush some egg wash onto the last corner of the egg roll and seal tightly. Place on a baking sheet or large plate. Repeat until all the filling is gone.
Heat the canola oil in your wok or large skillet to 350°F. Fry the spring rolls in small batches (do not overfill the pan) for 3-5 minutes each or until golden brown, moving them often to make sure they are evenly browned on each side .
Place the cooked spring rolls on a pan or paper-towel-lined plate until you've fried them all.
Serve hot with duck sauce, sweet and sour sauce, strong mustard or soy sauce.
From Crack an egg! : The Broadway Cookbook, by Tara Theoharis, published by Insight Editions.
Take a trip to Puerto Rico with Piñon de Luis and Lin-Manuel Miranda.
This Puerto Rican lasagna from the Miranda family goes well with the cast recording of In the heights.
Ingredients
3 or 4 ripe/yellow plantains
1 pound organic ground meat
1/2 cup vegetables of your choice – green beans, carrots, broccoli
2 tablespoons of "sofrito" (you can buy "recaíto")
2 tablespoons olive oil
1/3 cup tomato sauce
4 eggs
To treat:
Cut the plantains diagonally so that they are as long as possible and fry them in oil. Take them out when they look finished – they will be yellow with a bit of brown.
In a separate skillet, heat the olive oil. When hot, add the "recaíto" and the tomato sauce. Let fry for a few minutes. Add the organic ground meat, seasoned with salt and pepper, and simmer until cooked through.
In a separate pot, boil the fresh vegetables you have selected. Be sure to season the water and leave them until tender. Take two eggs and boil them with the vegetables. (If the vegetables are canned, you don't need to do this and just boil the eggs.)
Get rid of excess liquid. Cut the eggs and mix them with the meat and vegetables.
As if making a lasagna, in a greased pan put a layer of fried ripe plantains and add a beaten egg as if painting this layer.
Add minced meat with eggs and vegetables in a layer.
Top with another layer of fried ripe plantains and add another beaten egg. We use the beaten eggs to hold the plantains together.
Bake 30 minutes at 350°F.
Featured in hamiltonThe musical's holiday cookbook, this recipe, and more are available for free through the musical's Instagram and website.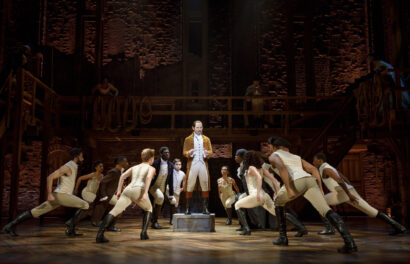 Tour North America with 7-Up Pound Cake by Ta'Rea Campbell, Angelica Schuyler on hamilton's Philip Company Tour.
Take a trip back in time to the American Revolution and the 18and century, the same century, the four-quarter would have been invented.
Ingredients
3 cups of sugar
3 sticks of butter
6 eggs
3 cups flour
3/4 cups 7Up Soda (or Sprite)
3 teaspoons lemon extract
To treat
Beat sugar and butter until smooth. Add the eggs, one at a time. Add the flour and stir.
Mix 7Up Soda and lemon extract. Mix into batter until smooth.
Pour into tube pan sprayed with cooking spray (Baker's Joy cooking spray contains flour, lightly flour pan if using a different brand).
Bake for 1 hour and 20 minutes or until a knife comes out clean at 325°F.
Featured in hamiltonThe musical's holiday cookbook, this recipe, and more are available for free through the musical's Instagram and website.
Put on your favorite red shoes and dance to some Naughty boots with a glass of The Most Beautiful Thing in hand.
In reality, red shoes are optional and not necessary to enjoy this late evening.
Ingredients
1 slice of orange
Red sugar crystals
1 ounce pomegranate juice
1 ounce of Cointreau
1/4 teaspoon edible red pearl powder
Sparkling wine in the lead
To treat
Garnish the top of a champagne glass with an orange wedge and dip into a plate of sugar crystals.
Add pomegranate juice, Cointreau, pearl powder and a little ice to a shaker. Shake to mix.
Strain into the decorated champagne glass and fill the rest of the glass with sparkling wine.
From Crack an egg! : The Broadway Cookbook by Tara Theoharis, published by Insight Editions.