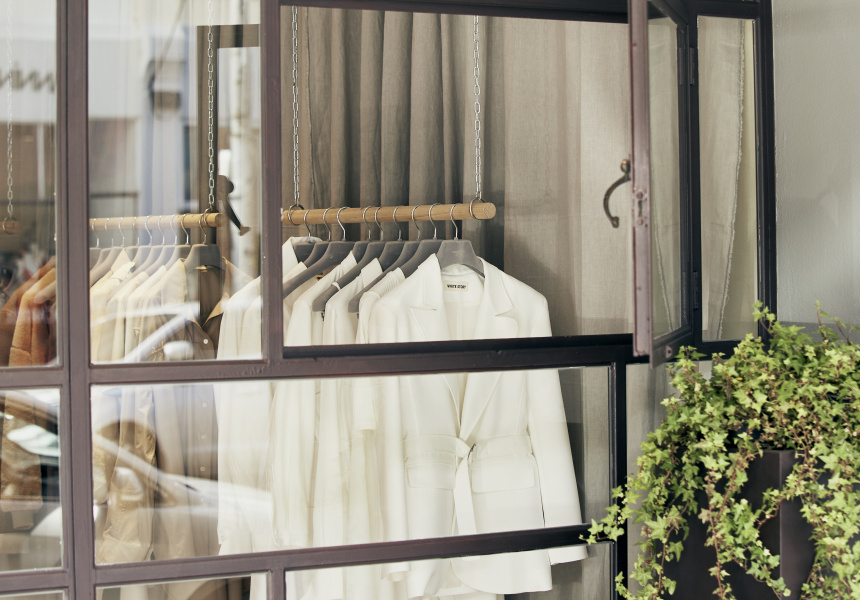 The pandemic has propelled Australia's already massive online shopping industry to stratospheric heights: market size grew by an average of 19.6% per year between 2017 and 2022. And yet, brick-and-mortar stores continue to pop up in the city. It's hard to do better than trying on before you buy, feeling the fabric under your fingers, having a long chat with the sellers – so when they look as chic as the ones on this list, it's not amazing that physical stores continue to thrive. Find five of our favorites below.
Best jumpers

Local designer Dylan Best worked in menswear design at Ralph Lauren and Club Monaco in New York – where he also attended Parsons' School of Fashion – before returning to Melbourne in 2018 and launching his eponymous label , Best Jumpers. Today, in a former antique shop on Rue Gertrude, Best opened its first permanent outlet. The high-end casualwear brand had previously held a pop-up on the same street, followed by a studio in Prahran that doubled as a showroom. The new space, designed by Sophie Di Pasquale of Pasquale Cook, is a nod to her previous life, with a balance of unfinished raw surfaces and polished lines; think patched-up plaster and a custom-made stainless steel clothes rack. Much of the furniture has been carried over from the brand's Prahran space, but new additions include a mustard Roly Poly chair and a two-tone rug sourced from Mexico. Shop the unisex range of hoodies and sweatshirts, Aussie-inspired graphic tees, elastic waistband pants, woven pieces, women's shirt dresses and more.
90 Gertrude Street, Fitzroy

Monday to Friday from 11 a.m. to 5.30 p.m.

Sat 10:30 a.m.–5:30 p.m.

Sun 11am–5pm
Viktoria and the woods

Melbourne-based label Viktoria & Woods was founded in 2004 by Margie Woods, with a simple vision of creating streamlined wardrobe basics. Since then, the brand has opened six freestanding Victorian boutiques – the latest being its first factory outlet in Cremorne. Spread over two floors, the sleek new store showcases sought-after exclusive apparel, accessories and samples from previous collections with up to 60% off. Browse puffer jackets, lightweight trench coats in the brand's bamboo blend, tailored blazers and more. Prices start from $49. The clean, minimalist space by local firm Design by Golden pays homage to the building's industrial roots.
84 Cubitt Street, Cremorne

Monday to Saturday from 10 a.m. to 5 p.m.

Sun 11am–5pm
white history

The label that Anna Wintour made sure to visit on her Melbourne tour has moved on, moving a block from her original home at 1022 High Street. The move places the Melbourne label in the heart of the Armadale arts and fashion district, where it counts other local labels such as Manning Cartell, Scanlan Theodore and Camilla and Marc as neighbors. Inside – a nod to the room that started it all – a 12-yard row of crisp white cotton shirts lines the far wall. The new store is also home to White Story's Made in Melbourne resort wear; upcoming artist-in-residence programs featuring local students from the Victorian College of the Arts; and a curated mix of founder and creative director Fiona Myer's favorite local brands, including li-los by Oliver James and sunglasses by GOD White Story's pieces are all designed, crafted and sampled locally, in the brand Cremorne studio.
1084 High Street, Armadale

Monday to Saturday from 10 a.m. to 5 p.m.

Sun 11am–4pm
Disorder

The Désordre boutique – founded in Sydney – was one of the first Australian boutiques to carry international brands such as Area NYC, Aya Muse, LaQuan Smith, Monot, Nué, Paris Georgia and Roberta Einer. Now, more than a decade after opening in Darlinghurst, Désordre has launched its first boutique in Melbourne, joining a host of designer brands on High Street, Armadale. The pastel pink store, with its tall arched windows and wooden floors, currently stocks Alex Perry, Christopher Esber, Dion Lee, Michael Lo Sordo, Nagnata, Khaite, Petar Petrov and many more. Désordre founder Shannon Thomas often collaborates with labels on special colors and styles to create exclusive pieces only available at Désordre.
980 High Street, Armadale

Mon 9:30 a.m.–5:30 p.m.

Sat 9:30 a.m.–5 p.m.

Sun 11am–5pm
Communal gallery

Founders Eloise Falkiner and Christian Stott carefully select local Australian artists to showcase alongside their own "jewellery art" at the Comune Gallery in Northcote. Falkiner's pieces draw inspiration from the natural world, with raw finishes and the use of hand-cut stones and local, recycled materials. Stott's designs are minimalist with subtle lines. The evolving exhibition-like space showcases the duo's beautiful handmade jewelry as well as creations from Benjamin Rose, Made by Charlie, A'Sika, Manuela Igreja and many more. Every Comune piece uses only ethically sourced materials and is handmade in Melbourne. Shopping here is fun, too – the captivating space is reminiscent of an underground cave, with textured sage-green walls, forest-green plinths to showcase jewelry, and a spellbinding archway.
272 High Street, Northcote

Wednesday to Friday 11 a.m. to 5 p.m.

Saturday 10 a.m.–5 p.m.

Sunday 11 a.m.–4 p.m.