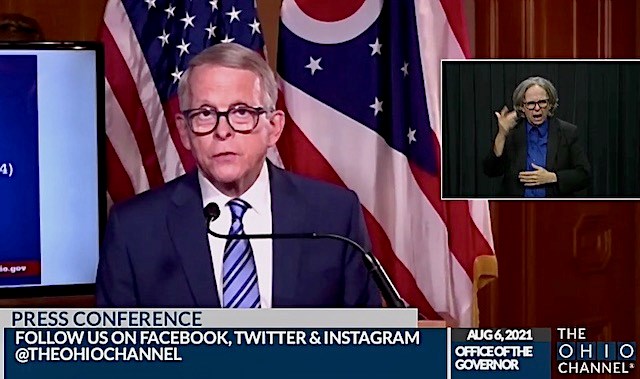 After being called out by multiple news outlets for his MIA status during the latest wave of the virus, DeWine reprised his once-frequent coronavirus briefings Friday morning. His refrain was familiar: Get vaccinated.
COLUMBUS – On June 24, the date of Gov. Mike DeWine's last coronavirus briefing before Friday, the state's seven-day average test positivity rate hit its lowest point throughout the pandemic – 1.3 percent.
In the next six weeks, the average increased almost fivefold, rising to 6.3 percent on Thursday.
The rampant spread of the delta variant in Ohio forced Gov. Mike DeWine back into the spotlight. After being called out by multiple news outlets for his MIA status during the latest wave of the virus, DeWine reprised his once-frequent coronavirus briefings Friday morning.
His refrain was familiar: Get vaccinated.
"No fact better illustrates how powerful the vaccines are than by looking at the people who have been in our hospital for covid since Jan. 1 of this year when the vaccine first started to have an impact, "DeWine said.
Of the 18,662 Ohioans hospitalized with COVID-19 since Jan. 1, 98.4 percent, or 18,367 people, were unvaccinated.
Since state leaders have started sounding the alarm about the delta variant, some unvaccinated Ohioans are heeding their warnings.
The weekly number of Ohioans receiving their first dose of the COVID-19 vaccine increased for the fourth week in a row, from 58,816 to 72,662 new doses.
COVID-19 trends in Ohio
Between Aug. 1 and Aug. 7, the state reported:
8.505 new confirmed boxes, up from 5,472 the week before.
579 new hospitalizations, up from 444.
61 COVID-19 deaths, up from 20.
72,662 Ohioans have received their first dose of the COVID-19 vaccinated, up from 58.816.
As of Aug. 7,
5,838,358 Ohioans have started to receive the COVID-19 vaccine, including

110.713 in Mahoning County, an increase of 1,327 (up from 1,033 new first doses the week before);
91.333 in Trumbull, an increase of 1,123 (up from 996);
39.773 in Columbiana, an increase of 518 (up from 396).

49.95 percent of the state population has received the first dose of the COVID-19 vaccine. Mahoning Valley counties continue to lag behind the state rate.

Mahoning County: 48.41 percent;
Trumbull County: 46.13 percent;
Columbiana County: 39.04 percent.
From last week
• The US. is now averaging 100,000 new COVID-19 infections per day due to the rampant spread of the highly contagious delta variant, the Associated Press reported. The US was averaging about 11,000 cases per day in late June and peaked at about 250,000 cases per day in January. The seven-day average for daily new deaths also increased, according to data from Johns Hopkins University. It rose over the past two weeks from about 270 deaths per day to nearly 500 per day as of Friday.
• US Rep. Tim Ryan of Howland, D-13th, on Thursday announced three Valley fire departments will receive Assistance to Firefighters Grant administered by the Department of Homeland Security's Federal Emergency Management Agency. Austintown, Craig Beach and Coitsville fire departments will receive a combined $ 455,590. The Assistance to Firefighters Grant is part of $ 319.5 million being provided directly to eligible fire departments, certain EMS organizations and state fire training academies around the nation to fund critical training and equipment.
• President Joe Biden on Thursday signed an executive order that sets a target of 40% to 50% of new vehicle sales being electric by 2030. Biden wants automakers to raise gas mileage and cut tailpipe pollution between now and model year 2026. That would mark a significant step toward meeting his pledge to cut emissions and battle climate change as he pushes a history-making shift in the US from internal combustion engines to battery-powered vehicles.
• The Centers for Disease Control and Prevention on Tuesday reinstated an eviction moratorium which lapsed last week. This new order expires Oct. 3 and only applies to renters living in counties with substantial or high COVID-19 transmission, which includes about 80% of US counties. But, the new moratorium could run into opposition at the Supreme Court, where one justice in late June warned the administration not to act further without explicit congressional approval.
• Mike Carey, a coal lobbyist backed by former President Donald Trump, beat a bevy of Republicans in central Ohio, while Cuyahoga County Council member Shontel brown pulled out a victory for the Democratic establishment in Cleveland, in a pair of primary elections for open House seats Tuesday. Brown's win over progressive Nina Turner handed another blow to a liberal wing that has been challenging the Democratic old guard. Turner, a leading national voice for Bernie Sanders' presidential campaigns, was for many months the best known and most visible among 13 Democrats running in the fiercely fought primary and the choice of Sanders, Rep. Alexandria Ocasio-Cortez and others. But Brown, a centrist backed by Hillary Clinton, influential House Majority Whip Jim Clyburn, the Congressional Black Caucus, leading unions and many local leaders, prevailed after a surge in national attention to her campaign in the weeks leading up to the election.
• New York Gov. Andrew Cuomo faced mounting pressure Tuesday to resign, including from President Joe Biden and other onetime Democratic allies, after an investigation found he sexually harassed nearly a dozen women and worked to retaliate against one of his accusers. The leader of the state Assembly, which has the power to bring impeachment charges, said it was clear Cuomo could no longer remain in office. Speaker Carl Heastie, a Democrat, said he would move to complete an impeachment inquiry "as quickly as possible."
• National retailers are reinstating mask mandates for employees and customers in the face of a coronavirus surge spurred by the delta variant. Home Depot is requiring masks for associates, contractors and vendors. The retailer is also asking customers to wear masks in its stores. Apple announced it would require masks for staff and customers at more than half of its 270 US stores. McDonald's, Target, Kohl's and Walmart are requiring masks for employees of stores in high-risk areas. McDonald's is also requiring that customers wear masks in restaurants located in places with high transmission, whereas Target and Kohl's are strongly recommending masks for customers in those stores. Giant Eagle now requires masks for store employees and strongly recommends them for customers. Elsewhere in Ohio, Kroger strongly recommends all staff and customers mask up in its grocery stores.
• The Mahoning County Sheriff's Office announced Monday a three-day online child sex sting conducted over the weekend resulted in 20 arrests in Mahoning County. In addition, task force officers conducted investigations in June and July, resulting in 14 arrests in Columbiana County.