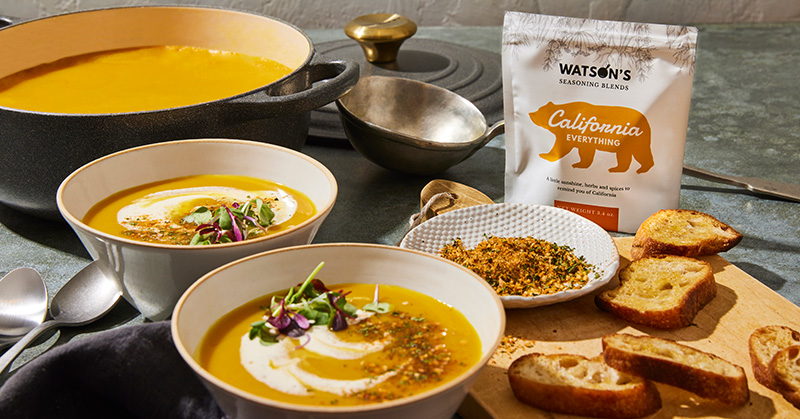 Want to improve your plant-based cuisine? Meet Watson's Seasoning Blends, a women- and minority-owned artisanal spice company based in Los Angeles, California. Watson's was created by vegans for vegans, and the products are meant to enhance both whole plant-based meals and processed vegan favorites. Whichever way you wring it, Watson's Seasoning Blends were made for plant-based cooking!
Sustainable and clean spice brand
Founded and operated by longtime vegan Lori Amos and her husband Jim in 2021, Watson Seasoning Blends are now available online! After switching to a whole plant-based diet, Lori sought to enhance her meals with herbs, spices and seasonings. She found her homemade seasoning line to be messy and full of unsustainable plastic containers forcing her to create a more sustainable and cleaner brand of spices free of chemicals, pesticides and mystery ingredients.
"We wanted to find a way to make it easier for consumers, whether vegan, flexitarian or omnivorous, to eat fresh, healthy, less processed foods by making those dishes more flavorful and even craving-worthy," Lori said. , Watson's. founder.
Watson's Seasoning Blends
Watson's seasoning blends can be found in six creative spice blends: California Everything, a savory all-purpose seasoning; Yumami, a mushroom-rich flavor enhancer; Nudish, a sweet blend of citrus and herbs; Furikake, a mixture of kelp from the Pacific Ocean; Nord, a spice blend from northern Italy made with Mediterranean oregano, fennel and sweet basil; and South, a blend of southern Italy. The brand also offers two Latin American spice blends launched in March 2022. All blends prepared by Watson's chef are vegan, non-GMO, organic and ethically sourced.
Seasoning mixes can be purchased directly from Watson's website, where customers can choose from individual mixes and gift boxes packaged in eco-friendly bags and mouth-blown, UV-coated glass jars. For more from Watson's, follow @tastewatsons on Instagram.