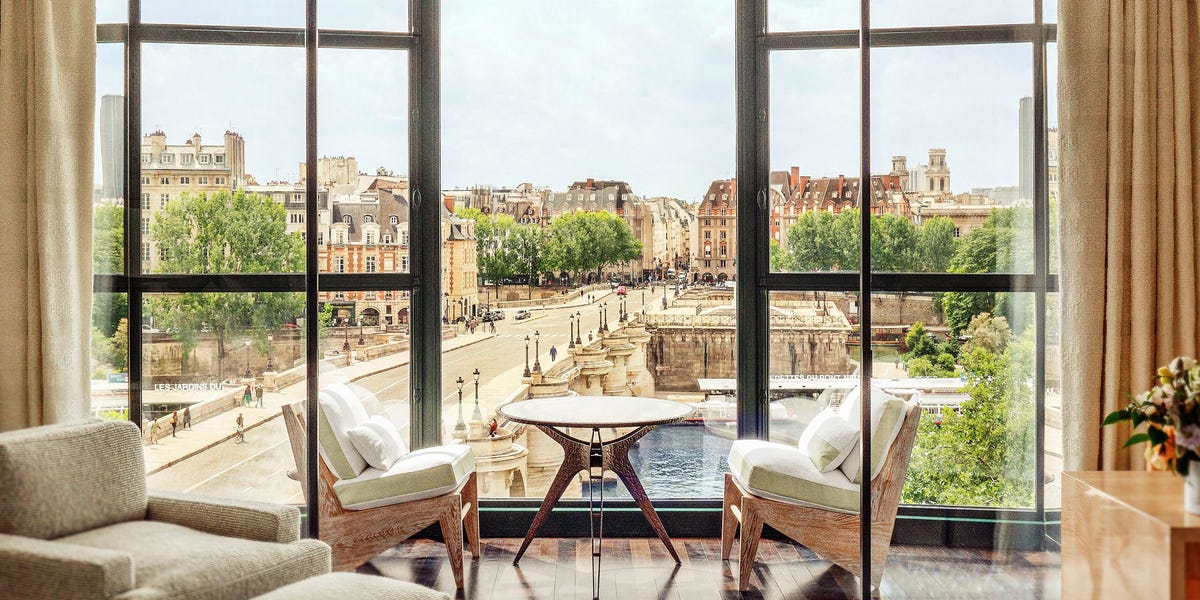 Courtesy of Cheval Blanc Paris.
If I had known, during my childhood trips to Paris, that it was called the city of love, I might have been less moved by all the kisses that took place there. My God! The United States was so much less romantically demonstrative. Equally memorable introductions to the pleasures of adult life were the Parisian department stores, temples of greedy passions, Louvres of material life. I would get lost in Galeries Lafayette, Printemps and, of course, La Samaritaine, a Macy's juggernaut between the Quai du Louvre and Notre-Dame (well, if you can imagine, as Adam Gopnik puts it, "Macy's on bord de Seine, with a view of a Gothic cathedral ").
Hence my unbridled enthusiasm for the new Cheval Blanc Paris hotel, from the French luxury conglomerate LVMH, announced seven years ago and inaugurated on September 7 (proof that the French are familiar with deferred gratification). It occupies the most characteristic of the four buildings grouped together in La Samaritaine, an Art Deco monument designed in 1926 by Henri Sauvage, and faces the Pont Neuf and, beyond, to Saint-Germain-des-Prés, the main artery of the left Bank. If we can say that the center of Paris has a heart, it is this one. And now you can't just go shopping (LVMH has also revamped the Art Nouveau splendours of the other three buildings, which have been closed for 16 years – and, yes, added a controversial corrugated glass facade to the part facing Rue de Rivoli), you can also sleep and eat here.
All luxury touch points are present: interior design by Peter Marino, who has deployed an army of French craftsmen to create subtly textured interiors in the palest tones of cream, beige and celadon – to better reflect the light coming through the huge windows (most of the 72 rooms and suites overlook the Seine); a Dior spa with a magnificent swimming pool; a children's club, Le Carrousel, a rarity in Paris; and four restaurants: Plénitude, directed by the three-star chef Arnaud Donckele ("a dish is above all an edifice of emotion"), a café / cocktail bar on the ground floor ("to see Parisian life go by" ), and, on the seventh floor, both a brasserie, Le Tout-Paris, where breakfast is served, and the first French outpost of the Italian culinary brand Langosteria.
While sipping your aperitif on this romantic perch, watching the sun set behind the Eiffel Tower, it is worth contemplating the uplifting story of the origins of La Samaritaine: A poor but ambitious young man, Ernest Cognacq, and a young woman equally motivated, Marie-Louise Jaÿ, arrived in Paris from French boondocks in the 1860s, met, married and, over the decades, capitalizing on the rise of the consumer society, built their business – Marie-Louise tireless and childless plays a decisive role – from a vendor's stand on the Pont Neuf (above a river boat called the Bains de la Samaritaine, which housed public baths) to four buildings generating, in 1931, revenues of some $ 100 million. What did the couple do with their fortune? Ernest collected art, but they also provided a retirement home for workers, daycare for their babies, and low-cost housing, and their foundation distributed $ 225,000 per year to 25 large families and 200 young couples to help them. to provide for the needs of their children. Another Parisian love story.
This story appears in the October 2021 issue of City Country. SUBSCRIBE NOW
This content is created and maintained by a third party, and imported to this page to help users provide their email addresses. You may be able to find more information about this and other similar content on piano.io