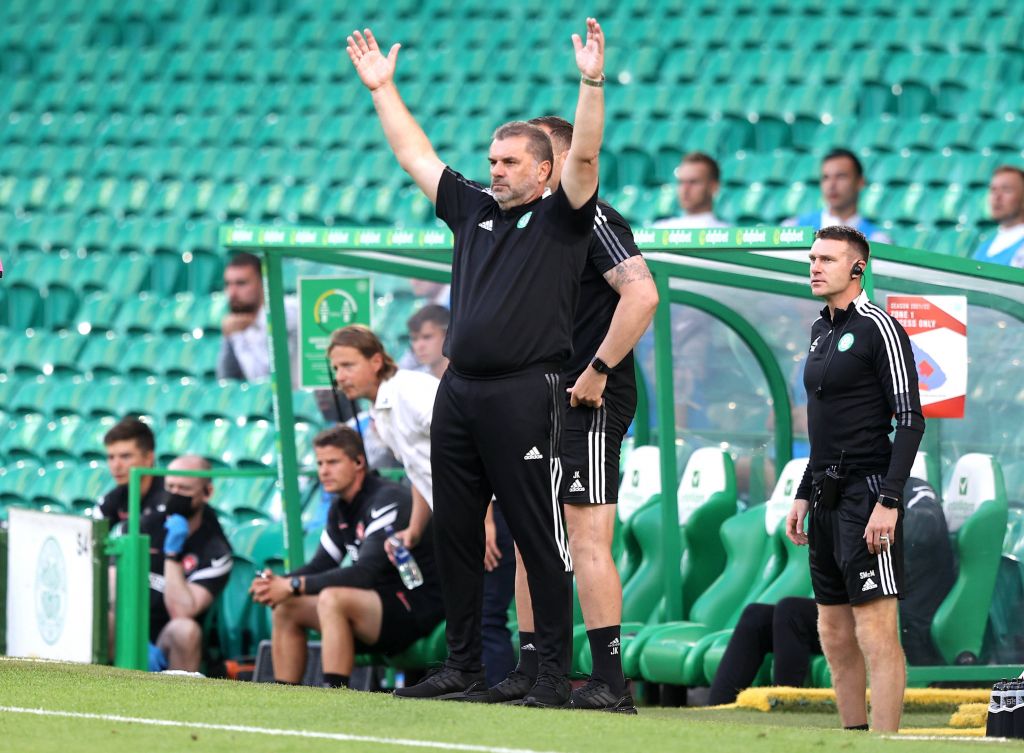 Warned is warned and Ange Postecoglou had another chance to experience for himself what it's like to manage Celtic with our "friends" in the mainstream media asking the questions. Last night Celtic drew we should have won against FC Midtjylland. Bitton's stupidity and Barkas' usual weaknesses added to a series of errors on the part of the officials – 1. the cheating was clearly offside, so the game should have been brought back for that. 2. The Welsh clearly won the ball for the free kick they scored on, although nothing can excuse Barkas' howl. Other than that it was a great Celtic performance and most importantly we are looking for a better team than Midtjylland.
But other than that Celtic looked like a decent team with a better performance than anything we've endured last season. Given that Angel has a little over a week to continue working with his players, and the crucial elimination of the away goals rule, Celtic, as noted above, looks set to a better team than Midtjylland and can finish the job mid next week.
"We will undoubtedly be better prepared, in eight days," Postecoglou told mainstream media as reported by The Herald, and you will notice that there was no post-game portrayal of Celtic Fan Media. We have asked the club to explain why fan media have been excluded from press conferences ahead of the Champions League qualifier, but have yet to receive a response.
"In fact, I don't think we'll ever be as unprepared as tonight and it's up to me to get into such an important game. We still have eight days, I'm convinced that the preparation and the spirit that we have, we will do, performed well, "said Ange.
" It's mine. I am the manager of the football club. I am the one who takes this responsibility of supporting the players and the staff. If things don't happen, it's up to me to make them happen.
"I haven't done a great job so far to be honest, because with the disruption we've had, we haven't been able to bring in the players. My role is to try to strengthen this team and try to prepare this team for what lies ahead, and to their credit the players haven't looked for excuses tonight.
"They put in a solid turn, and I'm just disappointed they weren't rewarded for what I thought was an outstanding performance."
Postecoglou blames the two "bad guys" on his side last night, Nir Bitton and Bitton and Vasilis Barkas, and possibly also the real bad guys – those who sat in the Celtic boardroom for over a hundred days at waiting for Eddie Howe, who incidentally did us a huge favor by ultimately rejecting the job as it opened the door for Ange – and that's a real bright spot that came out of the mess that was created last season.
"Nir had already been reserved and when you have been reserved you must be careful in your actions," noted Ange. "When you break again, you give the referee an opportunity to give you another warning. It's more disappointing for him than anything else, because he really wanted to put on a good performance.
"He started the game very well for us so it is disappointing for him that he also misses the second game," said the Celtic manager, before turning his attention to the less than friendly issues. addressed. You were warned Angel, you were warned.
"I'm getting a lot of half empty glass questions right now. I think there were a lot of positives tonight rather than people looking for little things that were not right.
"I thought it was a decent strike (their goal), we limited them to a few shots on goal with a whole new back four. The midfielder worked his socks. The number of runs that Soro, Cal and Ryan Christie did was incredible.
"There is nothing that disappoints me tonight. I'm frustrated with the result because the players didn't get the result I thought they deserved.